July 11, 2009 by Vincent
Twitpic vs. Twitgoo vs. yfrog vs. img.ly
Last updated: January 18th, 2011
With so many third party image sharing service for Twitter, it is hard to decide which one to go for. Since there isn't any comparison articles yet for Twitgoo vs. Img.ly, two of my remaining choices among the four, I decided to take a real look at them and compare all four Twitpic, Twitgoo, yfrog and img.ly.

Login method
Who would want to hand out their Twitter credentials to a third party website when they can simply link their Twitter account with the image sharing website in just two clicks.
At the time of writing, all (Twitpic, Twitgoo, yfrog, img.ly) are using OAuth to link Twitter accounts to their image sharing service, except for Twitpic, which require you to enter your Twitter username and password.
Image upload
Uploading methods and limitations by the service providers themselves.
| | | | | |
| --- | --- | --- | --- | --- |
| | Twitpic | Twitgoo | yfrog | img.ly |
| Local file browsing | Yes | Yes | Yes | Yes |
| Transload | No | Yes | Yes | No |
| Email upload | Yes | Yes | Yes | Yes |
| File format | GIF, JPG, PNG | GIF, JPG, PNG, BMP | GIF, JPG, PNG, BMP | GIF, JPG, PNG |
*Twitgoo accepts pcx/psd/tiff too, but will convert them to JPG.
*yfrog supports video upload too, but since we are only discussing about image upload, I leave it out of the table
Image viewer
Features on the image viewing page and other relevant information.
| | | | | |
| --- | --- | --- | --- | --- |
| | Twitpic | Twitgoo | yfrog | img.ly |
| Follow button | No | Yes | No | No |
| RT button | No | Yes | Yes | Yes |
| Rotate image | Yes | Yes | Yes | No |
| Social media buttons | Yes, including email | Yes, including email | Yes, including email | Yes |
| "Other photos" thumbnail | 3 | 2 | 2 | 3, scrollable |
| Image rating | No | No | Yes | No |
| Import Twitter style | No | Yes | Yes | No |
| Special effects | No | Lightbox | No | No |
| Mobile optimized site | No | No | Yes | Yes |
| Embed code | HTML – 150×150 thumbnail | No | HTML, BBCode – full original size/thumbnail (optional) | Javascript – max width 550px, min 100px |
| Tagging Tweeples (FB style) | No | No | No | Yes |
| Watermark on embedded image | No | n/a | No | Yes |
| Direct link | No | Yes | Yes | No |
| RSS feed | No | No | Yes | Yes |
| Distracting banner ad | Yes | No | Yes | Yes |
| View count | Yes | Yes | Yes | Yes |
Banner advertisement on Twitpic: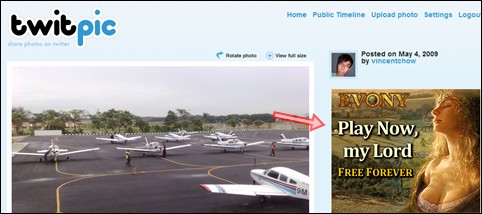 Banner advertisement on yfrog: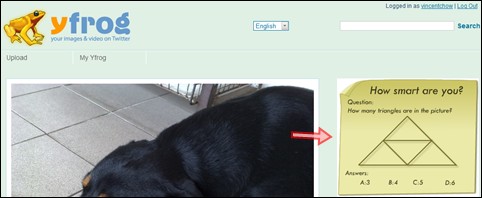 Misc.
Twitpic

Twitgoo

yfrog

img.ly

Image URL character

24

24

24

17

Profile URL

/photos/YOURNAME

/u/YOURNAME

/froggy.php?username
=YOURNAME

/images/YOURNAME

Big Daddy

n/a

Photobucket, Tinypic

ImageShack

n/a
*This comparison is updated from time to time. If you found any outdated information, please let us know in the comments below.