December 17, 2010 by Vincent
WeTransfer: Beautiful Way to Email Large Files
How do you normally send large files over email? Most webmail providers limits file attachment to 25 MB or 50 MB. For larger files, you would have to upload the file to an external host like RapidShare and Megaupload. Some of these file hosting sites is just a pain to use, with annoying ads and waiting time.
WeTransfer is a minimalistic file transfer service with no waiting time, and no annoying ads. There is only one small applet on the website, with an artistic background advertisement.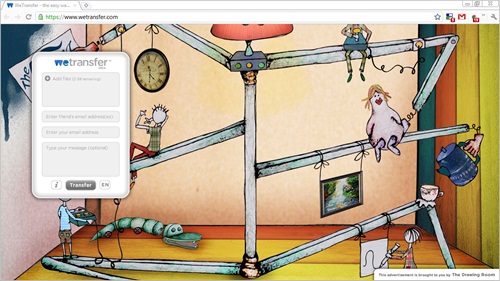 You can send files up to 2GB to 20 email address. Once your recipient has downloaded the file, you will be notified via email.
No registration is required. You can upload right away, enter your recipient's email address, your own email address and hit the "Transfer" button.
After uploading, you will receive an email containing a forward link and a download link. Hit the forward link to forward the file to more recipients. Alternatively, you can also share the file using the short URL download link.
All these sounds perfect to bring down those giant file hosting sites with countless of limitations, except the uploaded files will only be hosted for 2 weeks.