December 9, 2010 by Vincent
Why Chrome TweetDeck Not Ready to Replace Desktop Version
TweetDeck's CEO claims that Chrome TweetDeck, available in Google's newly launched Chrome Web Store is "definitely our best version of a desktop TweetDeck so far". While I have to agree it is quite decent, the Chrome version of TweetDeck is definitely not ready to completely replace its desktop version.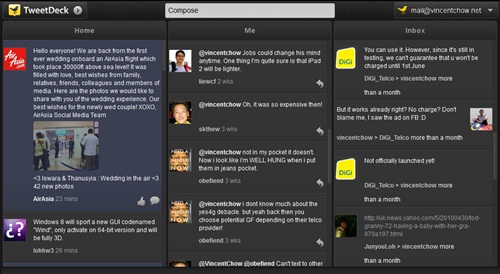 No TweetDeck Group
TweetDeck group existed in the desktop version way before even Twitter lists is implemented. It is useful because you can add anyone in the group and follow their tweets without actually following them on Twitter.
Stalkers would be upset to learn that TweetDeck group is not supported in the Chrome version.
You can however add your existing Twitter lists as a new columns. There is no way to edit the list in the app itself. You would have to do that on Twitter.
You can also add a column to monitor tweets from someone you're already following, reserving the entire column just for his tweets so that you won't miss a single one.
No notifications
You will not be notified when there is a new tweet in your timeline. Everything happens silently. To keep yourself up to date, you would have to continuously switch back and forth to TweetDeck's tab.
Services integration not available
Options to select your preferred services for link shortening and media uploading is not available. By default, Chrome TweetDeck will use Bit.ly's j.mp domain to shorten long links, but you can't add your Bit.ly API to track your links.
Not very friendly for online marketers.
Horizontal column scrolling a pain
TweetDeck wouldn't have today's success if not for its columns. In Chrome TweetDeck, if you have more columns than your screen can fit, you won't be able to jump to a column easily unlike the desktop version.
The only way is to use the horizontal scroll bar, which is a drag to drag *pun intended*.
Sign out and lost all your column and account customization
After signing out, all your settings and customization will be lost on your next login. Columns settings would be back to the default—Home, Me, Inbox.
If you are handling multiple accounts (Twitter, Facebook etc), deleted accounts will also be back on your next login.
————————————
That being said, the Chrome TweetDeck also bring some cool features that is not available in the existing desktop version, like the integrated inbox that captures both Twitter DM and Facebook messages, and the "Me" column that captures @mentions and your Facebook notifications.
The TweetDeck team is definitely looking into some of the above mentioned issues. But until they decide to port over most of desktop TweetDeck's functionality, I'm not jumping ship. In fact, Chrome is not even my primary browser.
*the points mentioned are all based on my personal observation. Do correct me if I miss anything.