January 4, 2009 by Vincent
Windows Live Messenger 2009: Features & Customizing Tips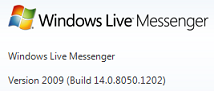 I consider myself a loyal user of Windows Live Messenger. In fact, I started it using before it is renamed from MSN Messenger. I had once tried Digsby and Pidgin, and recently once again re-try Digsby, but they are just nothing near to my liking.
Another reason is that most of my contacts are using Live Messenger as well, therefore there is no need of a multi-protocol IM for me, and that I had tweaked Live Messenger so much to my liking.
Windows Live Messenger 2009 RC 1 had been released and made available for download in mid-December 2008. These are a few of the obvious changes from WLM 8.5 to WLM 2009:

A whole new conversation window interface
Display pictures are moved to the left. The frame color of display pictures indicates the status of the user:
Green

– Online/Available

Orange

– Away

Red

– Busy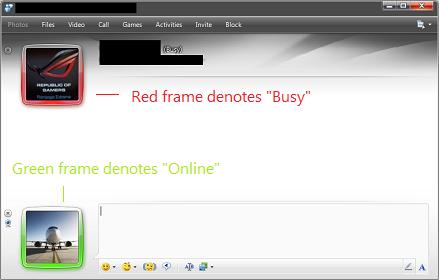 Scene selection
You can customize the look of the messenger by selecting one of the 23 default scene, or you can personalize it by using any picture from your hard disk.

As of now, there doesn't seem to be a way to delete or remove any scenes, meaning once it's added it will be there forever, until there's a fix (if there's any) in a newer version later.
To delete or remove a scene, just click on the scene you wanted to remove, then click on the red "X".
Grouped messages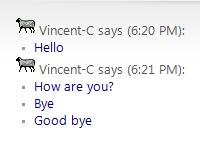 By default, messages sent or received will be grouped together, just like how Chat works in Gmail. To separate those messages so that they would look how they would in WLM 8.5:
Go to Tools → Options... → Click on Messages tab → Uncheck the "Group sequential messages from each contact together" box.
Status options reduced to 4

No more unnecessary stuff like "Be right back" and "Out to lunch". The remaining 4 options are:
Available
Busy
Away
Appear offline
Too bad, it is still not possible to have a custom status.
Animated .gif can now be used as display picture
The good is we can now have an animated or moving picture as our display picture. The bad is it might be abused, flashy bright annoying animated display picture anyone?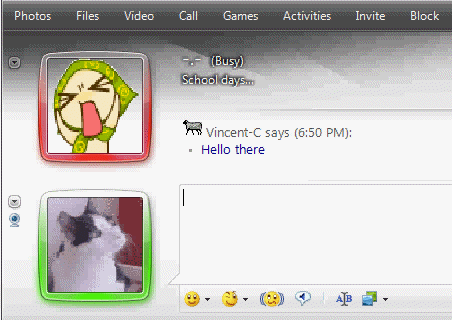 You like to, move it!
— — — — — —
And some customizing tips:
Remove Aero window frame in Windows Vista
In WLM 8.5, removing the window frame is just within a click. But in WLM 2009, there is no option to remove the window frame if you are running on Windows Vista with Aero enabled. However, this can still be done by tweaking the registry. Head over to Purple Indigo to learn more about it.

Remove Ads & Customize further with A-Patch

I had previously posted about A-Patch. For Windows Live Messenger 2009, there are only 10 tweaking options offered by A-Patch. But they are good enough in my opinion. They did what they are suppose to, which is to remove annoying banner and text advertisements, as well as remove nudge delay.
This is one of the reason I'm staying so long with WLM. WLM with ads is not my taste.
Download A-Patch according to your WLM version, which can be checked at Help → About messenger.
Color scheme for conversation window

Conversation windows by default will not follow the selected color scheme, but remain as the default blue color. To ensure all conversation windows remember and follow the selected color scheme, you have to configure it manually.
Here's how:
Open a conversation window (any contact will do)
Click on the "Show menu" icon at the top right corner
Select "Tools" and click on "Use the default scene "
The alert notification behaves the same as the conversation window. It will not follow the selected color scheme, but remain in blue instead. I'm unsure how to fix this one, any idea?