December 11, 2008 by Vincent
WordPress 2.7 Released
It's finally here. The much awaited WordPress 2.7 had just launched. The entire admin interface is revamped, with the new color scheme (grey, white, black).

The navigation links are moved to the left sidebar, each link is expandable to view further navigation in that category—meaning you won't need to click on the "Settings" link, wait for the browser to load, then proceed with what you want to do, say changing permalinks structure.
You can just simply expand the "Settings" link, and click on "Permalinks" to proceed right away.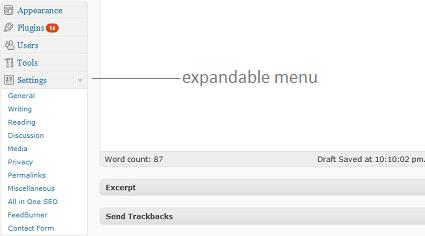 The "Add New Post" (yes, they changed the name) page has been optimized, with most spaces fully used. The textarea has gone fluid, meaning there will be more space or less space than ever before, depending on your screen size.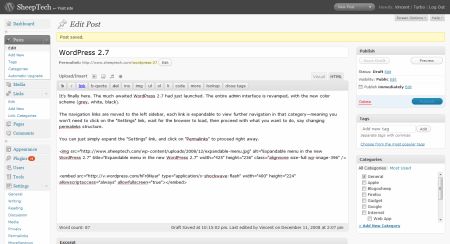 The image upload mechanism is pretty much the same as before. I don't really like hate the way it is now, clicking on an icon, waiting forever for the module to load, then upload, insert image. Upload or insert another image? Well, restart! Bah, that's just too much work. Why not just have the uploader embeded right below the editor? Wouldn't that be more convenient?
Hmm…
I guess it's pretty pointless to write any further. Just upgrade and see it for yourself.
Update: Just noticed that I'm not alone. Hope WordPress will do away with that as soon as possible. It's driving me crazy.