May 10, 2009 by Vincent
[Workaround] Firefox Gmail Notifier Failed to Log In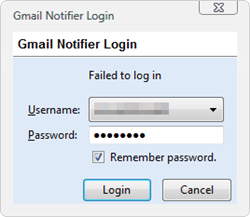 My Gmail Notifier Firefox add-on had stop working for several months already, and apparently the Offline Gmail feature from Gmail Labs is the culprit.
Updating to the latest version of Gmail Notifier (0.6.3.11 at the time of writing) didn't help at all, but fortunately this can be fixed by simply installing this: hosted2.xpi
It works for me, as you can see:

How well does it work at your side?
P/s: Aw, long time since I hear the "You've got mail" sound.