January 27, 2011 by Vincent
YapTime: The Private Social Network
This post brought to you by YapTime. All opinions are 100% mine.

Why is there a need for yet another social network when everyone is already on Facebook? That is exactly the problem. Everyone is on Facebook. With your parents, boss, teachers and everyone else on Facebook, you have to be cautious of what you're posting. "Bored at work" would get you fired, silly videos will jeopardize your professional image.
YapTime was created to address these shortcomings of Facebook. There will be no friend request from strangers you met an hour ago. You will know exactly who you are sharing your message, photos, and videos with. No nonsense wall post from random applications.

What is YapTime?
YapTime is a social network built with privacy in mind. You won't have your own profile, wall, or photo album. All you have is an account, and the ability to create and join a room. You can create several different rooms for different group of people, perhaps one for your close friends, one for immediate family members, and another for your sports club.
A room is like a private Facebook wall. Only invited members can post messages, photos, videos and events, and they are only viewable to other members of the room.
This way, you can select which group of people can see that particular status update of yours, and not make them viewable to just any John Doe that "friended" you.
You can then have a private conversation with your friends and family about your miserable life at work, while keeping it away from your co-workers and boss.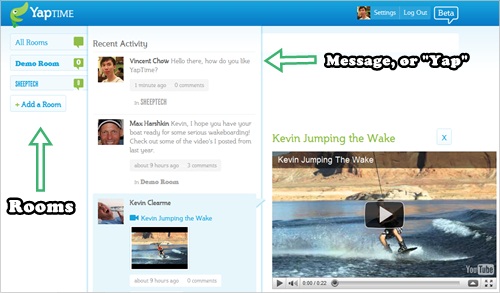 Isn't this the same as Facebook Groups?
YapTime is essentially similar to Facebook Groups, except it's not Facebook.
Some people I know do not have a Facebook account, mainly due to privacy concern. YapTime knows very little about you (only name, email, general location and a short bio), unlike Facebook. It has no nasty third-party apps to steal your information.
Also, it has a very simple interface that even a kid can understand. Plain straightforward, no complicated privacy settings.
You can either sign up for a new account manually or sign in using your existing Facebook or Twitter account. Join the demo room once you have signed up to see how things work.