December 6, 2010 by Vincent
Facebook Profile Revamped; How to Upgrade?
After launching the new Facebook Messages, Facebook is set to bring another major change to its 500 million users: a new profile design.
The new profile design put the spotlight on your basic information like job, college, location, relationship, language, birthday etc. These information will now appear right under your name. Your recently tagged photos come up next, so that your profile viewers will know what you are up to recently without even reading your wall posts.


Other new features includes featured friends, where you can highlight friends that are special to you. You can also tag classmates and colleagues in your education, job or even individual project information.
Read more about the Facebook profile features on The Facebook Blog.
The new profile is set to roll out to all users by early next year, but you can opt to upgrade your profile manually if you are an early adopter.
1. Go to facebook.com/about/profile
2. Click on the Get the New Profile button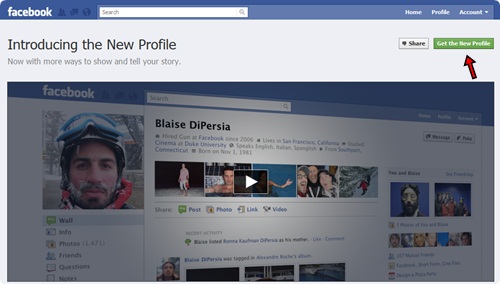 3. Your profile is now upgraded, feel free to take a tour to learn about the new features
Make sure you fully understand how the new profile design works before you upgrade. There are many users finding themselves dislike the new design after upgrading, and there is no known way to return to the old design at the moment.
Also, all your friend's profile will feature the new layout regardless they have upgraded their profiles or not. This upgrade is more to upgrading your entire Facebook experience, rather than just how your profile looks like.