July 19, 2009 by Vincent
Free Licensed Paragon Total Defrag 2009 Special Edition
Freebies time! What about a fully licensed full version of Total Defrag 2009 Special Edition by Paragon? It is valued at $29.95 but you can have it free by just registering at Paragon's promotional page. Here's their product's boring description:
File system starts out with all or most of its files contiguous, and becomes more and more fragmented as a result of the file creation and deletion over the time.

Thus files and their parts become spread all over the hard disk, which follows the delays in the hard disk work and further lower performance. Total Defrag 2009 is a new comprehensive product for total file system defragmentation and optimization. Built on original Paragon technologies, it performs complete low-level defragmentation that provides almost zero fragmentation level.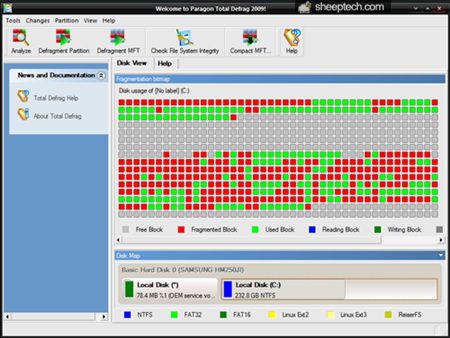 How to download free full version of Paragon Total Defrag 2009?
Go to this promotional page
Register yourself by entering your name, email address, country and language.
Check your email inbox for the email Paragon sent
Go to this login page
Enter the credentials provided in the email
Click on the "My Downloads" link
Download the installation pack and install it.
Voila!
I have no idea when will Paragon stop offering these free license for the Total Defrag 2009 Special Edition, so grab it while you can. You can always uninstall it if you don't like it, and make sure no trace is left behind by using Revo Uninstaller.
If you are a freeware junkie and insist on only installing freewares on your computer, even if you can have a commercial software for free, have a look at Smart Defrag. It is one of the most popular defragmentation freeware out there.