January 13, 2011 by Vincent
How-To: Automate Full Complete WordPress Backup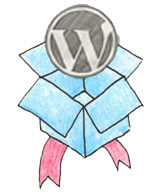 Why backup your WordPress blog yourself when your web host promised they will do it for you? Redundancy.
You wouldn't know when your host will go out of business
When disaster will strike the data center
It's not all that uncommon with stories about web host holding customer's files ransom.
By setting up an automated complete backup of your WordPress blog, you can set up your blog in the exact same way on another host without begging anyone, anytime you want.
Automating the process will give you better sleep at night knowing you will always have access to the latest backup, without ever doing anything.

wp Time Machine is the best backup plugin for WordPress yet, for it will not only backup your database, but also all your files in wp-content, which includes your themes and uploaded images (unless you specifically uploaded them in another directory).
What's better? Dropbox is supported, meaning you can store your backups in Dropbox, which in turn will sync the files onto your PC. Your data will now be available both in the cloud and locally.
How to setup?
1. First, install and activate the wp Time Machine plugin on your WordPress blog.
2. Go to Settings > wp Time Machine
3. Select Dropbox as your offsite service

4. Setup other settings based on your personal preference. Only enable "Time-stamped Subdirectories" if you have boatloads of storage on Dropbox.
5. Enter your Dropbox credentials and click on "Save my password". (use a separate Dropbox account if you're not comfortable storing your password in WordPress)


6. Click on the "Generate wp Time Machine archive" button.
Your backup will now be generated and will be uploaded to Dropbox shortly.
Automate the backup process
Now that you have setup your Dropbox account with wp Time Machine, you can automate the backup process by setting up a cron job on cPanel.
1. Login to cPanel
2. Go to Cron Jobs
3. Add a new cron job with the command:
curl "http://www.example.com/wp-content/plugins/wp-time-machine/cron.php?generate=1"
Select how frequent you want your blog to be backed up, depending how busy your blog is. Generally once a day would be good enough.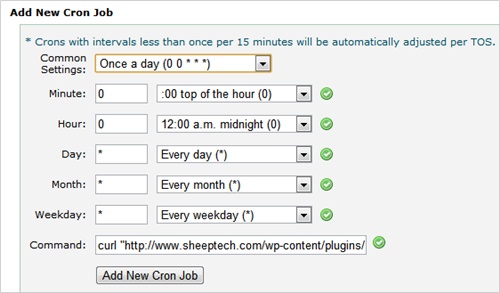 You will now not lost a single article, comment or the tiniest modification to your theme files.
Are you using wp Time Machine as your WordPress blog backup solution? If no, what other plugin are you using?
P/s: If you haven't heard of Dropbox, it's an online storage service that will sync your files across all your devices. You will need a Dropbox account if you intend to use the above method to backup your blog. Sign up here.