May 8, 2010 by Vincent
SheepTech April10 Report Card
Growth is pretty stagnant for April in terms of traffic, but there's a slight increase in revenue comparing to March's performance.
Traffic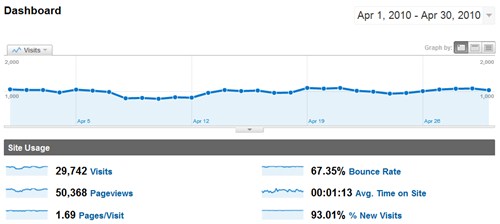 Visits down by 374 compared to last month, but pageviews are up by 1,867. Very minor changes. Alexa ranking at 210,727.

Money Made
I have added AdvertiseSpace as another source of revenue on top of Google AdSense and Infolinks. Figures in bracket shows the difference in earnings compared to the month before.
AdSense: $233.59 (+$18.38)
Infolinks: $39.33 (+$2.62)
AdvertiseSpace: $12.86 (+$12.86)
Total: $285.78 (+$33.86)
Uptime

Nothing to brag about for April's uptime. There's a total of 1 hour and 9 minutes of downtime, lowering the uptime percentage to 99.84%, 0.06% short of Hostgator's 99.9% uptime guarantee.
To see how serious they are on this guarantee, I requested for the month's refund and this is their response:
Hello,

Thank you for contacting Host Gator. I have had an admin check the downtime on the server, and we are seeing the server as having been up for 99.96% of the time this month. 3rd party uptime monitors can not be used towards the uptime guarantee as outlined in the terms of service. However, seeing as how we aren't even half way through the month yet, I've gone ahead and added a credit of $9.95 to your account. This credit will automatically be applied to your next invoice.

If there is anything else we can help you with, please let us know.
Chances are I might have another month of free hosting from Hostgator in May, with 1 hour and 15 minutes of downtime in a single day (3rd of May), caused by problems in the datacenter. We will see.
But then of course, I'd definitely appreciate uptime more than the refund.