February 9, 2009 by Vincent
Show Time-stamped Breakdown of YouTube Video Scenes
(Firefox Add-on): Just like torrent files, YouTube videos can get pretty nasty too. Judging from the quality of comments left by the YouTube community, you shouldn't be surprised to spot some nothing-better-to-do YouTubers uploading fake videos with misleading titles (say, a video full of emoticons titled Pink Panther 2 Trailer: watch).

VideoSurf Videos at a Glance, a Firefox add-on, will dramatically reduce the chance of being tricked into watching a fake video. Instead of displaying screenshots for verification like Vertor, VideoSurf adds an interactive time-stamped storyboard-like summary under YouTube videos, YouTube search results, Google and Yahoo! search results.

The thumbnails, which are scenes from the video, clearly reveal the content of the video, eliminating the guessing game. You can choose to see thumbnails from the best scenes or from all scenes. You can also opt to filter thumbnails so that it will only show scenes that contain human faces.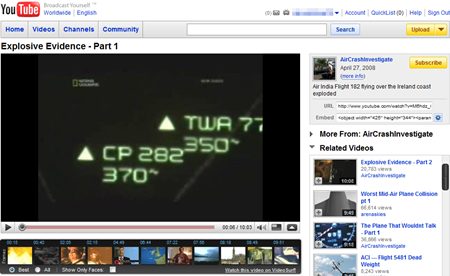 Clicking on any of the thumbnail will skip the video automatically to the specific scene you have selected.
Key features of VideoSurf Videos at a Glance:
VideoSurf lets you see a breakdown of the most important scenes from the video
Skip to a particular moment by clicking on any of the thumbnails
View thumbnails from the best scenes or all scenes with or without human faces in it
Supports YouTube video page, YouTube homepage, YouTube search, Google search, Yahoo! search and FriendFeed
Make all HD-compatible YouTube videos play in high quality (or HD) by default (optional)
VideoSurf in action on Google search results: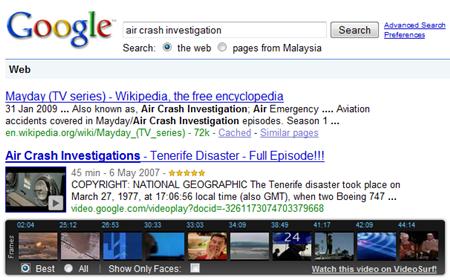 Videosurf on Yahoo! search results: