July 22, 2009 by Vincent
Analytics360° – Google Analytics to Your WP Dashboard
Released by MailChimp, Analytics360° is a WordPress plugin that will fetch your website statistics from Google Analytics and MailChimp campaign statistics (if you have one) right to your WordPress dashboard.
While the plugin is released by MailChimp with the intention to bring its customer's email campaign statistics and Google Analytics together into WordPress, it is totally fine if you just want to have data from Google Analytics and ignore the MailChimp part.
Have a look at their introduction video:


After installing the plugin, you can make it fetch data from Google Analytics by simply granting the plugin access to your Google Analytics, there is no need to provide your Google account credentials.
There are 5 sections of statistics displayed on the Analytics360° page, namely:
1. Site Traffic – displaying graphs of your website's traffic. A brown dot is used to indicate the days where new blog posts are published. If you are running MailChimp campaigns too, blue dots will be used to indicate the days where emails are sent. There are 3 graphs available, namely all traffic, organic and referral.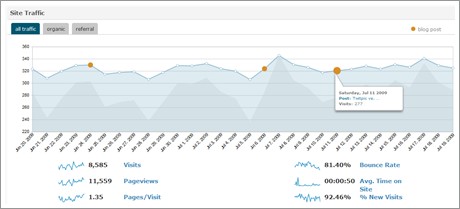 Under the graph, there will be other statistics including:
Visits
Pageviews
Pages/Visit
Bounce Rate
Average Time on Site
% New Visits
2. Traffic by Region – Hover over a country on the world map to see how much traffic is coming from that specific country. Countries that have higher traffic have a orange-brown tone, while those with lower traffic will be bluish.
3. Referring Traffic Overview – a pie chart representing website traffic, showing percentage of traffic sourced from search engine, referring traffic and direct traffic.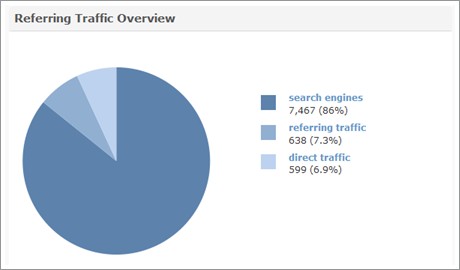 4. Top referrers – showing top referrers to your blog, including search engines and any other websites. There are 4 columns on the table, namely source, visits, pages/visit and average time on site. You can click on a search engine to view the top keywords that sent the most traffic to your blog.

5. Top content – a list of your blog posts that receive the most traffic. Four columns on the table, namely Pages (blog post), pageviews, unique pageviews, and average time on page. Just like the top referrers list, you can navigate to second or third page to see top content beyond the top 10 list.

I am definitely delighted to have this plugin installed on my WordPress blogs. It brings some of the most crucial data from Google Analytics, right to my WordPress dashboard, without needing me to login to my Google Analytics account.
If you are using Google Analytics too, and like me, hate to sign into the Google Analytics account (I consider it tedious), give this plugin a try. From your WordPress admin panel, just simply navigate to Plugins > Add New, then search for Analytics360″ and click on the install button.