April 11, 2010 by Vincent
CommentLuv & Top Commentators Enabled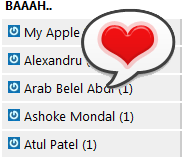 SheepTech has joined the club! To encourage more comments and voice from our readers, SheepTech is now CommentLuv and Top Commentators enabled. If you are unfamiliar with these WordPress plugin, CommentLuv will grab your blog's latest article and link to it whenever you post a comment.
Top Commentators plugin on the other hand, as its name suggest, will list the top 5 commentators at the sidebar. As the comment activity on this blog is low, it's not at all difficult to get on the list. The highest commentator at the point of writing has just 2 comments, the rest being just one.
For the time being, all the links are nofollow. I might consider do-following in the future, depends on how things go.
Alright, start commenting already 😀