January 31, 2009 by Vincent
Dead Simple Way to Dual Boot Ubuntu and Windows

Wanted to try out Ubuntu on your Windows machine but decides that the hassle to partition manually, download and burn the Ubuntu CD, then reboot and configure everything else is no fun? What if you can dual boot Windows and Ubuntu within clicks, without needing to be tech savvy or worry of messing things up?

With Wubi, yes you can.
Wubi is a Ubuntu installer for Windows, allowing Windows users to dual boot their machine with Ubuntu in a dead simple manner. It works just like any other installer for Windows.
Download and run the .exe file, do a bit of configuration (username, password, installation size, language etc.), click on the "Install" button, go catch a show on the TV and Ubuntu will be installed when you are back.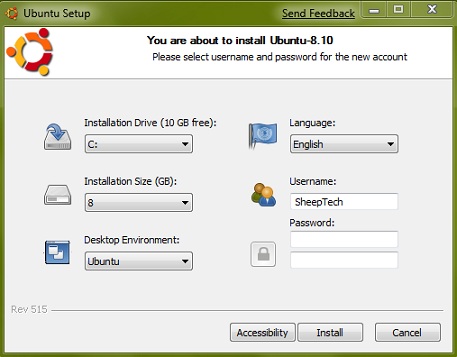 The next time you boot your computer, there will be options to either boot in Windows or Ubuntu. The best of all, you can get rid of Ubuntu in no time if you don't like it, using Wubi itself. How much more simple can it be to dual boot Ubuntu and Windows?
Before you grab a copy of Wubi installer, make sure the machine you intended to use Wubi on has at least 256MB RAM, 5GB free hard disk space, and is on Windows 98, 2000, XP or Vista.