March 26, 2010 by Vincent
How To Track Your Blog's Presence on Twitter

This would be relatively easy if URL shorteners does not exist. But the fact is not so. Links shared on Twitter are largely short URLs, bit.ly being the top gun, followed by god knows how many other providers that provides similar service.
Even Tweetmeme won't do the trick, you can only track tweets that have your blog's domain name in it with it.
BackTweets
BackTweets is able to track tweets with link to a specific domain name (all blogpost/pages within the domain name), whether they are masked by short URLs or not. Just simply enter your blog's domain name and Backtweets will return you with a list of tweets that links to your blog.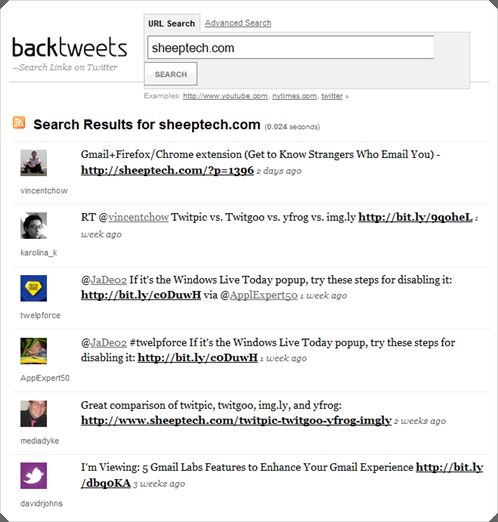 As if it's not providing enough value to fellow bloggers, which as far as I'm concerned, such tracking is unavailable anywhere else, Backtweets also make it possible for you to subscribe to email alerts when someone tweets your blog, for free. You can opt to receive email alerts once a week, once a day, or instantly everytime your blog link appears on Twitter.
Credits to Rarst for the awesome find.