December 30, 2010 by Vincent
InPaint: Automagically Remove Object from Photos (free)
Want to remove an object from a photo but don't have the necessary photoshop skills?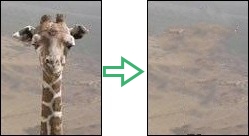 InPaint is a software that does exactly that, with minimal effort on your part. Simply crop the object you want to remove from a photo and click the Run button. InPaint will use its surrounding background to fill in the hole left by the removed object.
I've used a small giraffe photo as a demo:
It obviously will not work on photos with complicated background. InPaint normally cost $40 a pop, which is pretty steep for a software with just one functionality.
You can however get a copy of InPaint 2.4 for free by subscribing Software-Butler's newsletter. After subscribing, you will receive a license key to activate your InPaint.