January 3, 2011 by Vincent
The Best & Worst of Fake iPhone 4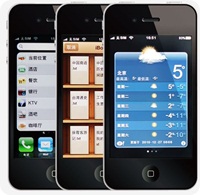 It's widely known that the Chinese is capable of creating knock offs of just anything, even cars! The iPhone is no different, the fakes are available way back since the first generation.
Recently, a new iPhone 4 knock off called the Sophone has been making rounds on other blogs for its perfect resemblance of the iPhone 4, both exterior and interior if not for the slight lag. You probably wouldn't know it's a knock off by just watching the demo if you're not told earlier.

Almost every detail of the iOS is implemented in the Sophone, including the keyboard, iPod (background playing supported), app folders, multitask, multi touch, pinch zoom, and other gestures.
Even the stock apps like Notes and Voice Memo are included and looks exactly the same.
See to believe:
To put in into perspective, here's another video comparing the Sophone and iPhone 4 side by side.
Sophon's Specifications:
MTK6235 chipset
Supports GSM & WCDMA
Supports Java & WAP
3.5-inch (480 X 320) capacitive screen
4GB flash storage
2 megapixels camera, both front and rear
Wi-Fi
Bluetooth
Removable 1400mAh battery
Not convinced Sophone is the best fake iPhone 4 yet? Wait till you see the worst. Introducing the AirPhone no.4. You will be frustrated just by watching the video, let alone using the phone. Air. AirPhone. Whatever.